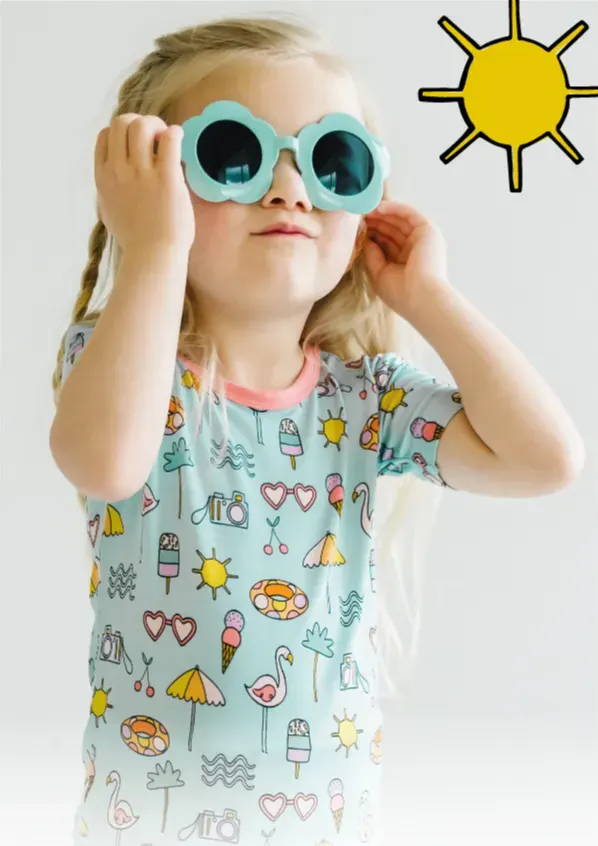 And with that comes the need to protect their precious skin from sun rays! As summer heats up, sun protection becomes even more critical. While sunscreen is an essential part of the equation, the clothing you choose can help protect them further.
Our Lunaluxe™ bamboo features natural UV protection of 25 UPF. But what exactly is UPF, and why is it important? Read on to find out!
---
Fabrics with a Ultraviolet Protection Factor (UPF) protection rating scale measures the amount of Ultraviolet (UV) radiation that penetrates clothing and reaches the skin. Applying sunscreen is still important, but clothing with UPF adds further protection all summer long. And for young babies who can't yet wear sunscreen, UPF clothing is an option to protect their delicate skin.
UPF ratings of 25 and above provide very good protection against the sun.
---
Although both measure sunburn protection on your skin, SPF (Sun Protection Factor) measures the effectiveness of sunscreen and provides protection from UVB rays. (UVB is type B ultraviolet and UVB rays are the part of sunlight that gives you a sunburn.)
UPF was created for sun-protective fabrics and provides UVB and UVA protection. UVA is ultraviolet A and accounts for about 95% of the UV light that reaches our skin.
---
When should I dress my little one in UPF protective clothing?

While the sun is stronger in the summer, we recommend dressing in UPF clothing year-round. UVA rays are present no matter the season, even when it's cloudy and the sun isn't visible!
---
Where can I find UPF clothing?

Right here! All our products are from Lunaluxe™ bamboo viscose, which offers UPF 25 protection. And yes, that includes our pajamas!
---