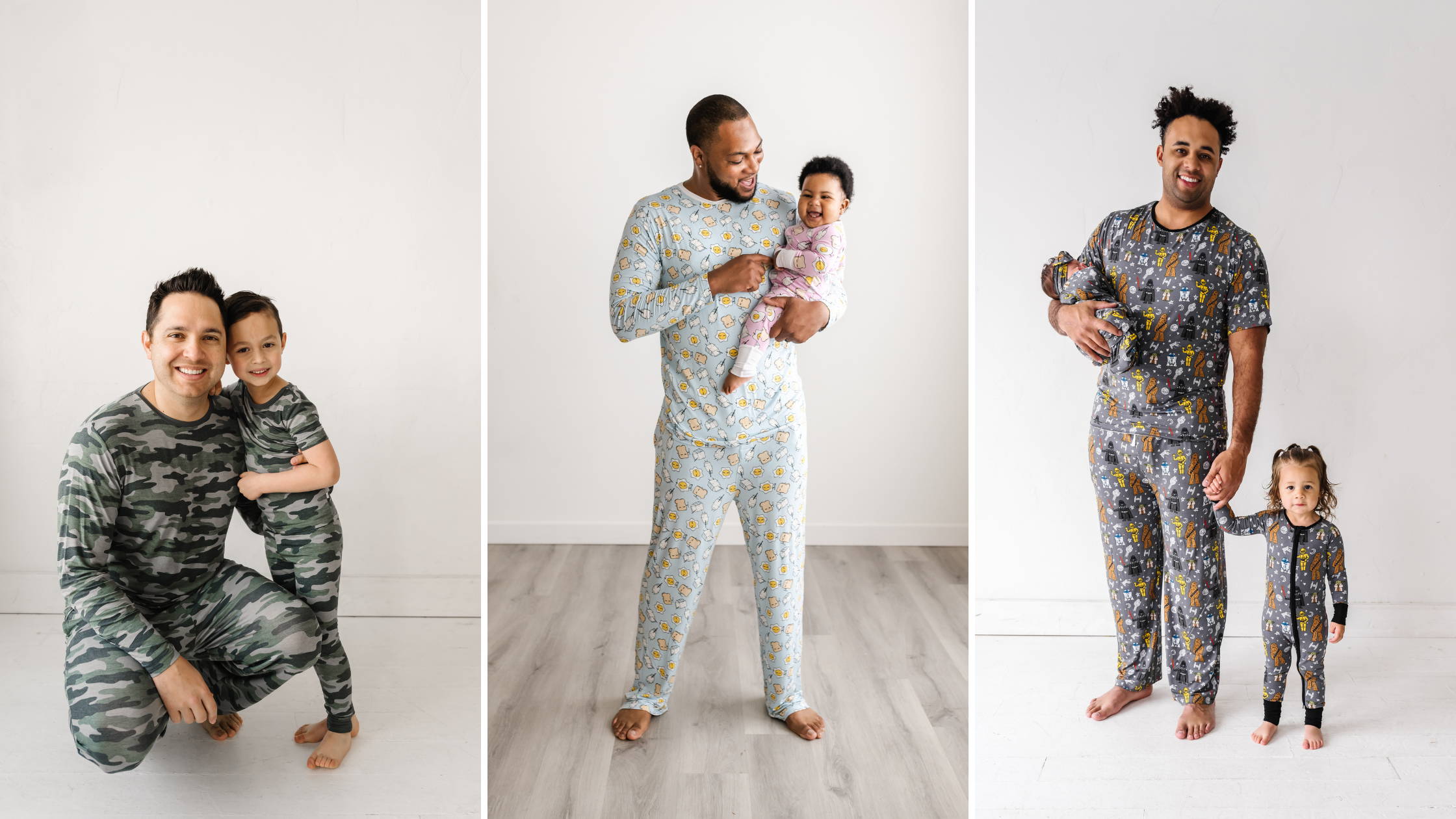 Let's hear it for all the dads and father figures out there! While we love celebrating dad every day, Father's Day is the perfect time to treat them to the snuggly soft jammies in prints made for matching. We've put together a few of our fave daddy and me family matching options for every type of dad, sure to bring longer morning snuggles and endless giggles.
Here are a few prints he'll love as much as his next dad joke:
For the Dad that is Out of this World

Inspired by a galaxy far, far away, comes a print that every sci-fi loving dad can get behind! He'll love our  Star Wars™ May the Force Be with You jammies featuring fan-favorite characters like Darth Vader™, Yoda™, Chewbacca, R2-D2™, and C-3PO™. Not to mention a few of the most iconic ships in the galaxy — X-wings™, Imperial TIE fighters™, & the Millennium Falcon™. Pop some popcorn and snuggle up for a movie night in the softest PJs in the galaxy!
And for the dad that is a super fan of the Star Wars™ universe, the force is strong with these Grogu™ pajamas as a fun add-on for the rainy days inside!
For the Dad Eating all the Leftovers on Your Plate

You know that if you can't finish the pancakes on your plate, dad has you covered with the task at hand. Surprise him on Father's Day morning with our signature matching Breakfast Buddies jammies, and a delicious breakfast spread to match!
Our pink and blue Breakfast Buddies prints have an option for everyone in the family. From your littlest littles to your big kids, these jammies are a must for Father's Day brunch!
For the Dad that Can Set-up a Tent

It's hard to find the perfect daddy but show him you found him with our Vintage and Berry Camo designs available in different colors for the family. Whether you're playing a game of hide and seek or lounging around, this great camo isn't hard to find after all!
For the Dad with the Loudest Animal Noises

When dad screams louder than the littles running around the house, we have a real character to celebrate! Our Dragon Dreamland print adds the fun of loud and fierce mythical creatures with a dad that never burns out.
For the Dad Who Has It All

Can't find a gift? Our gift cards make last-minute shopping easy! Simply purchase a Little Sleepies gift card and let him choose.
---
Whatever gift you choose to give this year, give it from the heart! Celebrate Father's Day with matching moments and memories they'll never forget. And for more ideas on what to get, visit our Father's Day Shop.
---