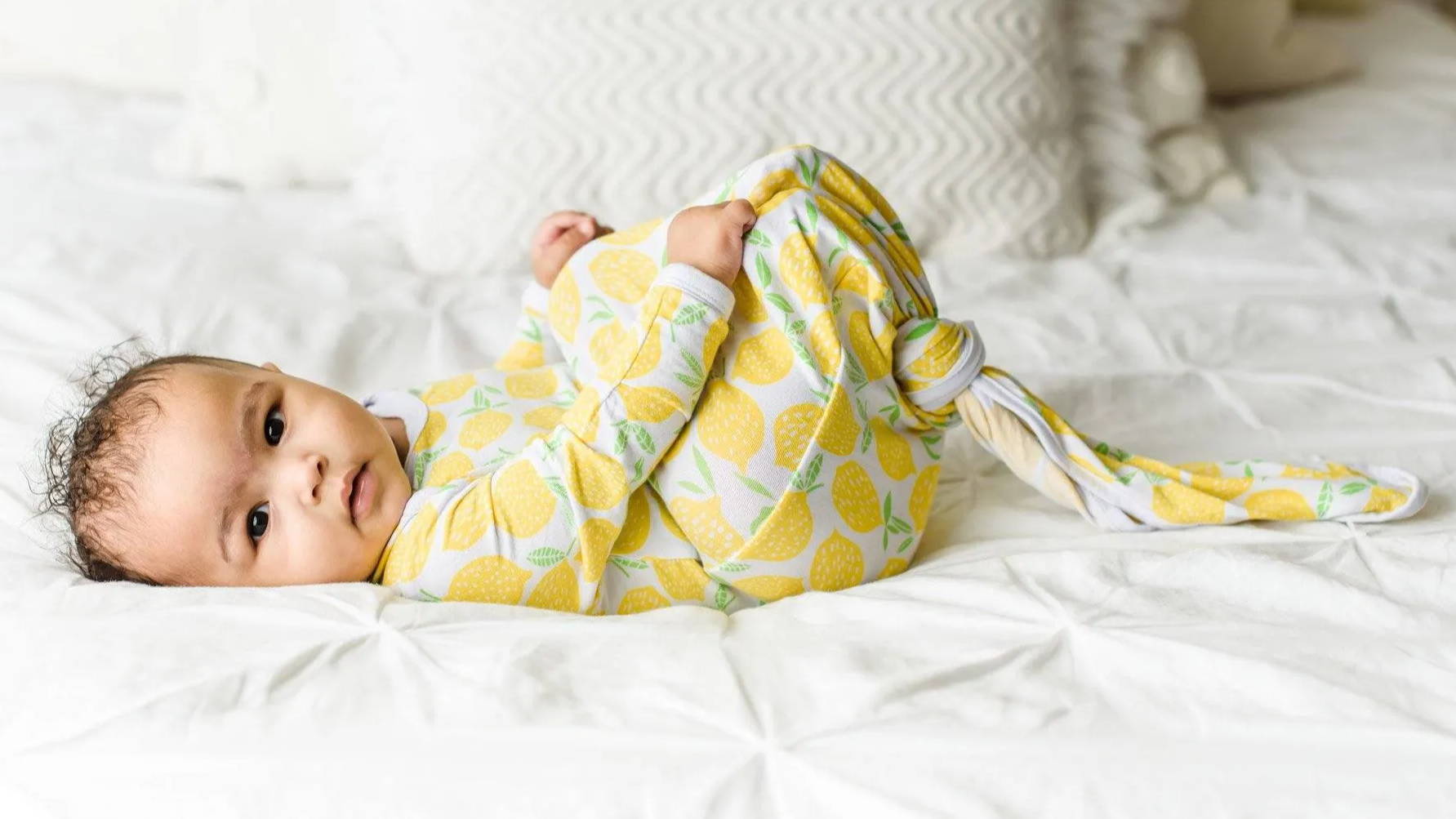 Our Infant Knotted Gown is a newborn outfit necessity as you build baby's wardrobe for their first three months. These gowns are knot your average sleeper gowns for baby girls and boys - we thought about everything from coming home from the hospital to unpredictable nap schedules and little diaper accidents!
Our one-piece knotted gowns fit approximately 5 to 15 lbs, and are designed for preemies, newborns, and babies up to three months. That's why we think it's an essential item to add to your hospital bag. Need more reasons to love these newborn baby gowns? Here are four more!
Newborn skin is more sensitive and needs breathable fabric. Like the rest of our best-selling products, our infant knotted gown is made with our buttery soft, stretchy custom-milled Lunaluxe™ bamboo viscose, making it gentle on sensitive or eczema-prone skin.
And the best part about our quality bamboo fabric? It is easy to care for and can be washed often, keeping that soft feel on your little's skin wash after wash well after they no longer need it.
We stick to our commitment to bring you products that are free of chemicals and safe for sensitive skin. That's why we choose not to use flame retardant chemicals on our products, including these sleeper gowns.
Functional for Everyday Wear

Parents love our infant knotted gown because it's functional for you and baby, with no zippers, buttons, or snaps. The simple design with a tie bottom makes diaper changes hassle-free and outfit switches easier!
We designed the stretchy, wide neckline to help you easily slide baby into the gown in a jiffy for those unpredictable accidents. It also keeps your newborn comfortable so that nap time can happen at any time.
Our Infant Knotted Gown is a comfortable fit but not too restrictive while your newborn's umbilical cord stump dries out and eventually falls off. It can take up to three weeks after birth for the stump to fall off so it's important to keep your baby's belly area free from any irritation.
We thought about those little fingers too! The fold-over hand cuffs will prevent scratches and keep hands warm during those first few months. And when the temperature increases, untie the bottom so your baby can stretch those legs and not overheat. This is also a really good time to count those little piggies!
Safe products, your baby's comfort, and a functional design for you are most important when building your newborn's first outfits. But our adorable prints and designs are another reason to love the knotted gown. Our styles come in prints you love and solid colors that are picture-perfect for a solo snapshot or family matching.
Our knotted gown has another design secret - sizing and simplicity! While your little one is growing into their first Zippy, we make sure they're comfortable to move in the Infant Knotted Gown. It eliminates the stress of guessing the right sizes so you can focus on those ever-changing sleeping schedules. You got this momma!
Oh, and they look darn cute matched with our hats and headbands. 😉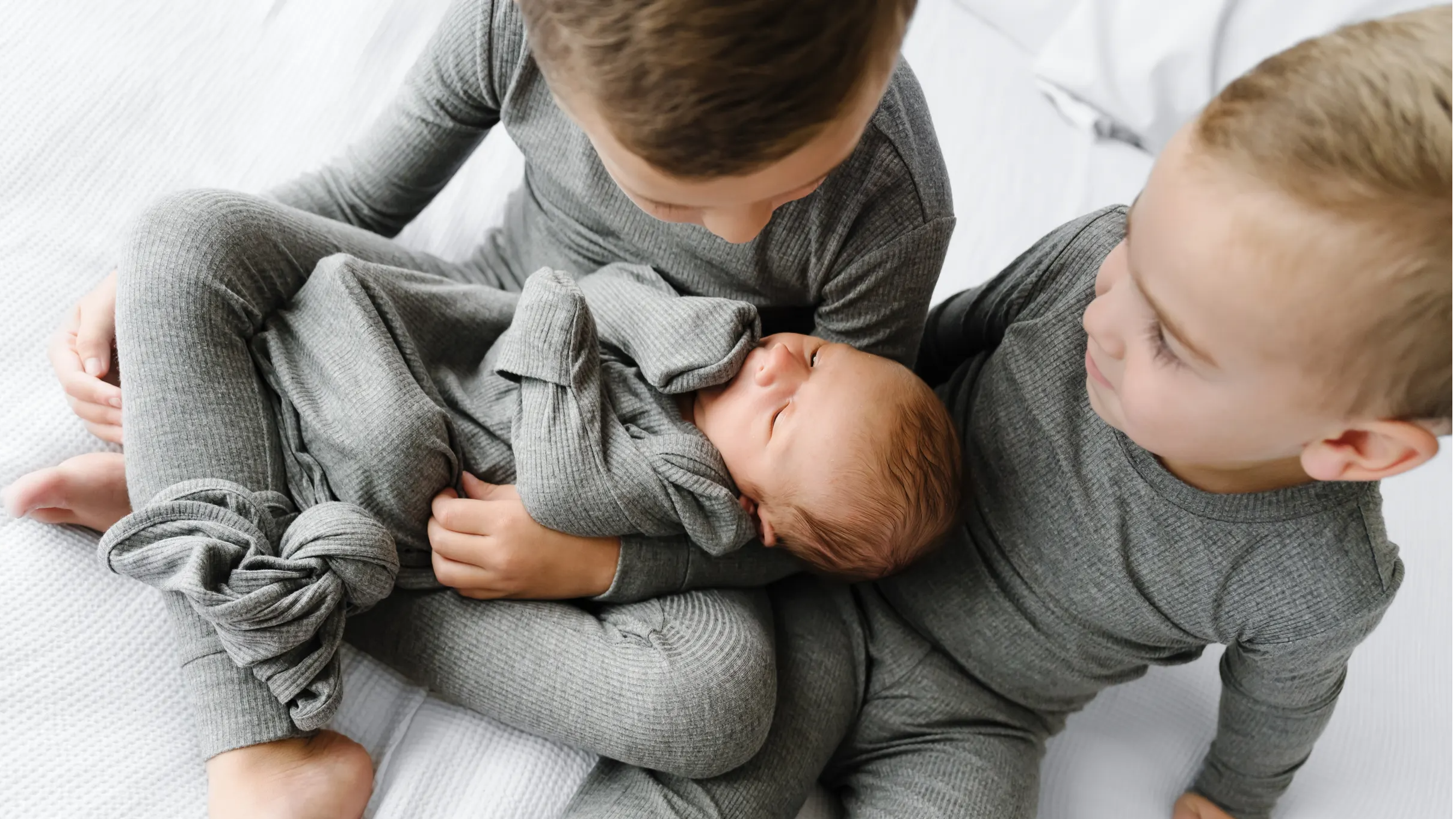 Family matching with siblings in Limited Edition Heather Charcoal Ribbed Solid pajamas and infant gown.

The Little Sleepies Knotted Fitted Gown is part of our Layette styles, a collection of super-soft, stretchy bamboo viscose crossover sets, swaddle sets, and infant gowns. These styles are the perfect coming home from the hospital outfit made from the same prints and solids as our Zippies and two-piece pajama sets, making for the sweetest sibling-matching moments!