New year, new traditions with the kids!
This year, we suggest throwing confetti into the air with a Noon Year's Eve Party! Instead of counting down to midnight, count down to 12 p.m. and celebrate New Year's Eve with the kids at a time when everyone can be together.
And the best part is that you celebrate when they're awake without disrupting their sleep schedule! If you really woop it up for the mid-day party, they'll be fast asleep by your midnight festivities!
Need inspiration? Here are unique ways to welcome another year of memories with the kids.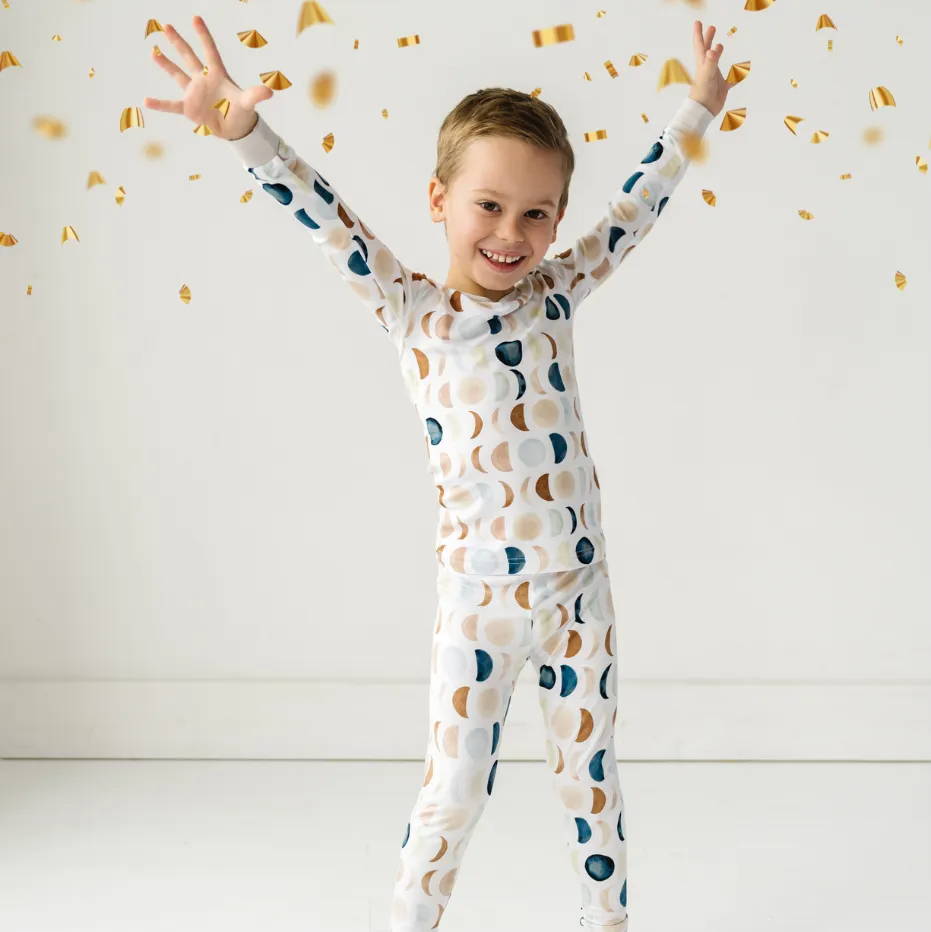 Designate a Theme
Every party must have a theme! Will you make a glitzy gathering or casual brunch? Throw a festive pajama party with Family Matching jammies so everyone can stay comfy and cozy until the countdown!
Build a Kid-Friendly Menu
A Noon Year's Eve Party is a great way to get your kids involved in the menu selection. Here are kid-friendly menu choices that even adults will love.

Create a mocktail selection of festive drinks for the kids, including sparkling apple cider and root beer!

Build a meal with easy grab-and-go snacks kids can eat while socializing, like popcorn or pretzels.
Make it easy on yourself and treat the family with quick clean-up bites like pizza cut into small pieces or a do-it-yourself taco bar while wearing our Taco Time jammies!

Celebrate the new year on January 1 with an Ice Cream Sunday! (Get it? Sunday? Sundae?)
Make it Picture Perfect
Set up a 'gram-worthy moment in your home for fun photo ops that'll capture memories of all the fun. Kids love to smile and join you in picture-taking, so make it special with a background worthy of a Noon Year's Eve Party with sparkly streamers and balloons! Cheeeeese!
Create a Resolution Journal
The great thing about a new year is a new start! Get your kids involved by talking about resolutions and what they would like to set for 2023. Put out a journal for the kids to write or draw their resolutions, and add your own. For extra points, create resolutions as a family!
Keep Active
Activities are a must, and celebrating during the day makes it easy to say new year, same you!
Turn up the music! Start a dance party so the kids can get those wiggles out. Watch them laugh out loud and jump to the beat as they dance with you! Dress them in our Twirl Dresses for extra dazzle.


Create a craft station with New Year's theme projects, like paper plate clocks or party hats!


Start the day with their favorite movie so they know it will be a special celebration! Our kids love watching Harry Potter, and they'll love it more wearing our new Little Sleepies collection.


If the weather cooperates, take a family nature walk or go sledding while wearing your party hats! Really get into the theme!
Invite Friends
Celebrations are more fun when you invite the people you love! If you have family in town or friends with kids, invite them to celebrate with your family. They'll love joining your selfies and taking a lead role in the group dance party - they won't just be there for the mocktails!
Celebrate the Big Countdown to Noon
Anticipate the big countdown with noisemakers, confetti, and fun sunglasses (remember the ones shaped like the year?). A room full of kids is sure to deliver excitement … start with an hour reminder at 11 a.m. and definitely increase the anticipation with a 10, 9, 8 … countdown!! (Cue the balloon drop and confetti!!)